Jaisalmer tourism packages
Jaisalmer Jodhpur | Fantasizing about a trip Jodhpur to Jaisalmer? Rajasthan Royals Holidays is here to serve you!
Our experts include the best hotels, best in class desert camps, luxury cabs, desert safari activities, local cuisine along with 1 or more day tours to Jodhpur & Jaipur.
You can view our tour packages below & call us for more details.
Our 2 days Jaisalmer desert camp package includes desert sightseeing, safari tour, Camp stay, gypsy dance & more
This is a half day tour, which include private taxi with driver, camel safari or jeep safari tour, and dinner & dance program at camp in Sam sand dune. The tour plan here is:
Pick up at Jaisalmer city at 3 pm
Arrival at Sam sand dune at 4 pm
Camel or Jeep safari tour till 7 pm
Dinner & dance program till 10:30 pm
Drop back to city (your hotel) till 11:30 pm
Places to visit in Jaisalmer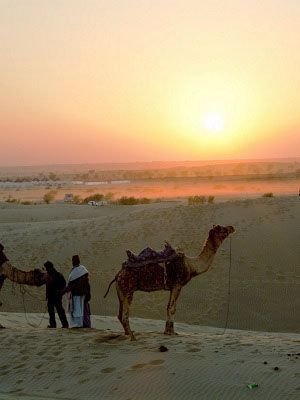 Best Hotels and Camps in Jaisalmer
For travelers planning a Jaisalmer holiday from Mumbai and Jaipur.
Jaisalmer tour package from Mumbai
For travellers planning to reach Jaisalmer via Mumbai, we suggest catching a train name 22931 – BDTS JSM EXP. One can also catch a flight from Mumbai to Jodhpur and then a cab or train for Jaisalmer.
Jaisalmer tour package from Jaipur
All the three trains which start from New Delhi to Jaisalmer stops at Jaipur. Thus the best way to reach Jaisalmer via Jaipur is by Train. One can also hire a cab from many car rental firms as Jaipur to Jaisalmer is a popular route.
Related Holiday Packages
Jaisalmer Car Rental
Have a look at our Jaisalmer Car Rental package, where you can hire a car with drive for half to full day in jaisalmer @ Rs 1600.
Jaipur Tour Package
Come spent two days in Rajasthan pink city Jaipur & visit royal palaces, taste local cuisine & enjoy an evening with Rajasthani folk programs.
Udaipur Tour Package
Udaipur is a city with which travelers fall in love as the city is surrounded by lakes & have superb architecture which is nowhere visible in India.