Complete details on how you can plan a trip to Jaisalmer with us
[st_title_line header_title="" layout_title="st_default" style_layout="style-9″]
Jaisalmer is desert city which is famous for three things, 1st is its Fort (Sonar Quila) where still 25% of city population lives, 2nd its is desert where Sam sand dunes is one of the best place to visit and 3rd is the desert safari where one can visit the desert dunes and enjoy many activities.
Rajasthan Royals Holidays, is offer its Jaisalmer tour packages since 2013 and here we want to share that whether you are from Delhi, Ahmedabad or from Maharashtra, you don't need to spend thousand to plan a trip to Jaisalmer.
Below you will find complete information on how to arrive in jaisalmer, where to stay, what to do and how to do all these without wasting any money.
[/st_title_line]
How to arrive in Jaisalmer?
1. Trains to Jaisalmer
[st_title_line header_title="" layout_title="st_default" style_layout="style-9″]
From Delhi, Ahmedabad, Mumbai or from any other city, the cheapest way to arrive in Jaisalmer is via train. Some of the best trains available for a trip to Jaisalmer are:
Runicha Express (14659) from Delhi to Jaisalmer and it takes around 18 hours to reach Jaisalmer. Along with this there is 2 more train option from Delhi. A 3 tier AC seat here will cost you Rs 1200 per person.
From Ahmedabad, train options to Jaisalmer are limited & currently you can check BDTS JSM EXP 22931, that leave from Mumbai to Jaisalmer & also stops at Ahmedabad. To get more information on trains to Jaisalmer, visit https://www.irctc.co.in/
Tip: Anther train option to reach Jaisalmer is to look for trains for Jodhpur, and then from Jodhpur book a taxi to reach Jaisalmer, which takes 4-5 hours. You can get a one side taxi from Jodhpur to Jaisalmer for Rs 2000-2500 per car.
[/st_title_line]
2. Jaisalmer by road (bus or taxi)
[st_title_line header_title="" layout_title="st_default" style_layout="style-9″]
Along with trains, you can also plan a trip to Jaisalmer via road from cities like Delhi or Ahmedabad. From Ahmedabad, Jaisalmer is 530 km drive (9-10 hour) and from Delhi, Jaisalmer is 795 km (13-14 hour drive).
Buses for Jaisalmer are available on daily bases from Delhi, Ahmedabad and cost is same as trains (Rs 1000-1500 per person). You can contact us via mail for booking bus tickets from Delhi, Ahmedabad to Jaisalmer, by filling our Jaisalmer contact form > Click here
[/st_title_line]
3. Flights to Jaisalmer
[st_title_line header_title="" layout_title="st_default" style_layout="style-9″]
Direct flights to Jaisalmer are only available from Jaipur, Surat, Ahmedabad & for other cities in India, all flights to Jaisalmer are 1 stop flights, stopping in the cities mentioned above.
A plane ticket to Jaisalmer would cost between Rs 2500 to 5000 depending on how close is Jaisalmer from your city. Like from Ahmedabad, place ticket is around Rs 2250-3000, from Delhi its Rs 2900-3500 and from Bangalore, its Rs 3600-4500 per person.
[/st_title_line]
Where to stay in Jaisalmer?
There are two options when it comes to book a stay in Jaisalmer. 1st is in Jaisalmer city and 2nd is in desert. Below you will find details on both.
1. Hotels in Jaisalmer City
[st_title_line header_title="" layout_title="st_default" style_layout="style-9″]
When we say that look for hotels in Jaisalmer city, it means that either a hotel inside Jaisalmer Fort or outside Fort. Though more options are available outside Jaisalmer Fort, but still many of our guests ask for a room in the fort area.
So you can check hotels like Garh Jaisal, Hotel Victoria which are inside Jaisalmer Fort, but there as a tour company we will suggest to book a hotel outside the fort as they are more value for money.
Some suggested hotels (outside fort) are Marina Mahal, Mystic Jaisalmer, Hotel Priya (less than Rs 1500 per night) Fort Rajwada, Rang Mahal, Marriott Resort & Spa, Rawal Kot, Club Mahindra (star rated) and also check out Suryagarh, which is the most luxurious hotel in Jaisalmer.
[/st_title_line]
2. Camps outside Jaisalmer
[st_title_line header_title="" layout_title="st_default" style_layout="style-9″]
2nd accommodation options in Jaisalmer are desert camps which are mostly situated in Kanoi village (35 km from Jaisalmer) and Sam (45 km from Jaisalmer).
Mostly travellers prefer to stay one night in desert camps as a part of their tour plan to visit the desert area, enjoy desert safari & later visit the camp for some dance dinner program and stay a night at the camps.
Some of the best camps to checkout are Rajputana Desert Camp, Dangri Desert Safari Camp (mid-budget) and Damodara Desert Camp, Serai Camp, Mirvana Nature Resort (luxury options)
The best will be to stay 1 night in city & 1 in desert, that what most travellers prefer to plans trip to Jaisalmer with us.
[/st_title_line]
What to see at Sam Sand Dune, Jaisalmer?
Sam Sand Dune, Jaisalmer
[st_title_line header_title="" layout_title="st_default" style_layout="style-9″]
A trip to Sam sand dune is a must for all travellers visiting Jaisalmer. Sam is 45 km west to Jaisalmer & here you can enjoy activities like:
Camel & Jeep Safari at sand dunes
Folk dance & musical program at Camp
Overnight stay at desert camps
Visit the sunset point in Sam
To enjoy all the above activities you must minimum give 1 night (from 4 pm t0 11 am next day) and all these are available with our Jaisalmer camp package.
Along with a tour of Sam sand dunes, you can plan to visit a few more sites by giving one extra day. These are:
Kuldhara haunted village
Khuri sand dunes
Tanot Mata temple
Longewala Post
Here Kuldhara & Khuri are under 50 km from Sam, and both Tanot Mata temple & Longewala is more than 100 km away, which require 1 full day trip.
[/st_title_line]
[contact-form-7 id="7467″]
Also checkout
[st_accordion][st_accordion_item st_title="Best time to visit Jaisalmer"]
Tourist season in Jaisalmer is from September to Match, and the months of November, December are rated as high tourist month when most hotels & camps increase their room rates. Plus you can also visit Jaisalmer during the month of february, when Jaisalmer Desert Festival is on.
[/st_accordion_item][st_accordion_item st_title="How many sand dunes are there in Jaisalmer?"]
In Jaisalmer, there are 2 popular sand dune areas which are Sam sand dune and Khuri sand dune. Sam is more popular as here there is no shortage of desert camps and other safari related activities. In Khuri, you will find more of Village safari theme, where guests prefer to start in Khuri town guest houses and visit the dunes for camel safari tour.
[/st_accordion_item][st_accordion_item st_title="Cities to visit along with Jaisalmer"]
A good number of travellers visit Jodhpur, which is just 240 km or 4-5 hour drive away. Plus there are daily trans between these 2 cities & buses are also available.
[/st_accordion_item][/st_accordion]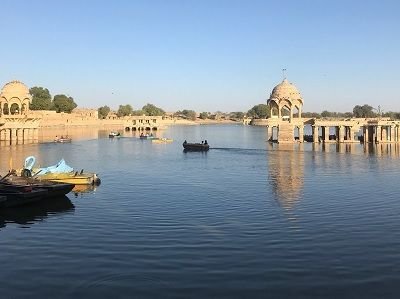 [st_title_line header_title="Jaisalmer tour package" layout_title="st_default" style_layout="style-9″]Have a look at our top selling tour packages for Jaisalmer, all inclusive of taxi with driver, hotel & camp stay, safari & sightseeing activities with complimentary breakfast.[/st_title_line][st_button st_type="btn-success" st_size="btn-normal" st_title="CLICK HERE" st_link="https://rajasthanroyalsholidays.com/jaisalmer-jodhpur/"]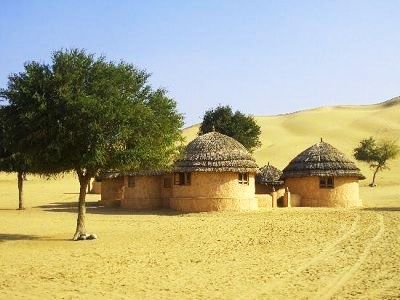 [st_title_line header_title="Jaisalmer desert safari" layout_title="st_default" style_layout="style-9″]With our Jaisalmer desert safari tour packages, you can plan Jeep safari and camel safari in jaisalmer desert dune area of Sam and even Khuri. Check details by clicking the button below.[/st_title_line][st_button st_type="btn-success" st_size="btn-normal" st_title="CLICK HERE" st_link="https://rajasthanroyalsholidays.com/jaisalmer-desert-safari/"]
[st_title_line header_title="Top desert camps" layout_title="st_default" style_layout="style-9″]View our list of Top 10 desert camps in Sam & Khuri sand dunes Jaisalmer, along with their camp tariff, contact details & images of their premises.[/st_title_line][st_button st_type="btn-success" st_size="btn-normal" st_title="CLICK HERE" st_link="https://rajasthanroyalsholidays.com/jaisalmer-desert-camps/"]
[st_title_line header_title="Jaisalmer Taxi Service" layout_title="st_default" style_layout="style-9″]You can also hire a private tourist taxi with driver from us in Jaisalmer for local city tour, trip to Sam or to visit other cities in Rajasthan. Check details.[/st_title_line][st_button st_type="btn-success" st_size="btn-normal" st_title="CLICK HERE" st_link="https://rajasthanroyalsholidays.com/car-rental-jaisalmer/"]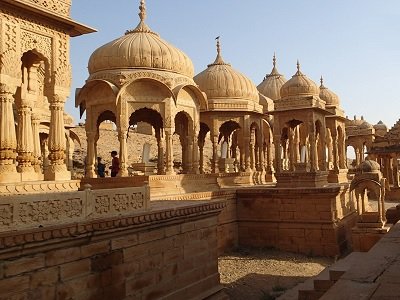 [st_title_line header_title="Jaisalmer tourism" layout_title="st_default" style_layout="style-9″]Know all about the places to see in Jaisalmer along with few more details on Jaisalmer tourism by clicking the button below.[/st_title_line][st_button st_type="btn-success" st_size="btn-normal" st_title="CLICK HERE" st_link="https://rajasthanroyalsholidays.com/jaisalmer-tourism/"]
[st_title_line header_title="Train to Jaisalmer" layout_title="st_default" style_layout="style-9″]Checkout our blog on all the 
trains
you can catch from Delhi, Ahmedabad to arrive in Jaisalmer. And feel free to contact us.[/st_title_line][st_button st_type="btn-success" st_size="btn-normal" st_title="CLICK HERE" st_link="https://rajasthanroyalsholidays.com/about-us/"]