Jaisalmer Desert Safari
Dear Travelers & Explorers, If you are planning a trip to the Jaisalmer Desert Safari tour at the Thar Desert. Then come, let's traverse through the beguiling beauty of Golden Sand with our Comfortable Jeep or Camel Safari Tour.
Explore Jaisalmer Tourism With Desert Safari tours with our dedicated team of professionals, who will provide your more safe holidays with prompt and well-coordinated service.
Facilities provided:
Only Safari Package: Book only camel ride to see sunset Point at Sam dunes.
Safari + Camp Package: You may also book our Desert safari with a camp stay.

Our Half Day Jaisalmer Safari tours
Camel safari with desert camp events & gala dinner
If you have your own vehicle, and you don't want to stay in desert then this package is best for you. In This package we will give you 45 minutes camel ride from our camp. Before safari you can also enjoy cultural evening show with traditional welcome(tikka dasturi) and Buffet Dinner.
Timing For this tour
Camel Safari: 4.30 To 7.00 (Till Sunset)
Traditional Program With Dinner: 7 to 10 pm
Pickup And Drop Off To City (optional)
Group Dance on DJ, Tea, snacks
You can also book pickup & drop from Jaisalmer city, Call us for More Details; +916376421821.
Camel & village safari tour & dinner
In Village safari  tour, you will enjoy a camel safari tour along with a visit to the desert villages of Jaisalmer(sam, kanoi, khuri). Here a special dinner cooked By Camel man on wooden fire. He also entertained you with local folk song from the rushed campsites.
Tour timings:
This tour will start at 3 pm till 11 pm
Inclusions & Activities:
Pickup-Drop By Ac Cab on shared Based
Tour of Sunset point with Camel Safari (60-90 mins)
Tour of a village in Sam or Khuri.
Homemade cooked dinner at the village
Our Full Day Jaisalmer Camel Safari tours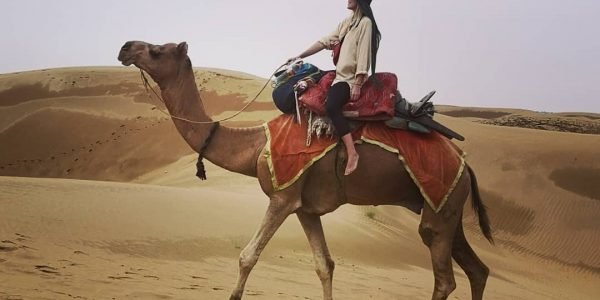 Full day Jaisalmer Camel safari tour and camp stay
In our this package you will enjoy the camel safari/Jeep safari with Tent Stay in desert camp in Sam sand dune with complimentary Dinner, morning Breakfast and cultural evening show with folk music and Dj Group Dance.
Tour timings:
This tour package will start at 3 pm till Next Day Morning 10-11 Am
Inclusions & Activities:
Pickup From Anywhere In Jaisalmer City At 3-4 Pm -Drop By Next Day Morning.
Tour of Sunset point with Camel Safari from Camp to Sunset Point Till Sunset (60-90 mins)
Cultural Evening Show With Hi-Tea, Snacks, Gypsy Dance, Langa Music, Magic Show And Group Dance On Mix Music with Bonfire.
Buffet dinner at Campsite
Accommodation At Luxury Swiss Tent With attached Modern Washroom with Hot And Cold Water.
Morning Breakfast with Morning Tea-Coffee.
Full day Jaisalmer Camel safari tour with open sky bed
Jaisalmer is the best place for desert camel safari Our This Package For Those safari lover who want to stay on dunes under-sky., In This Package we provides a adventurous experience of camel Riding, with a visit to the desert and a night on the Sam sand dunes, snoozing  under the stars. We have created this trip for those people who are in Jaisalmer for adventure with jeep ride and camel rides, camping on sand dune under star moon.
Tour timings:
This tour package will start at 3 pm till Next Day Morning 10-11 Am
Inclusions & Activities:
Pickup From Anywhere In Jaisalmer City By Jeep At 3-4 Pm -Drop By Next Day Morning.
On The way Visit Local Village
Desert wildlife tour By Camel point to sand dunes
Sunset  With Hi-Tea, Snacks,.
Fresh Pure Veg Dinner cooked By Camel man on Wooden Fire.
Many Local Stories and song by camel man.
After dinner relax on the dunes and count as many stars
More Jaisalmer desert safari tours
Jeep Safari in Jaisalmer
If you came to visit Jaisalmer and did not enjoy jeep safari in Thar desert, then your Jaisalmer tour will be incomplete. In This tour shows three deserts in Sam Sand Dunes by open jeep (Thar ,Mughal, Royal)
In this tour package of sam sand dunes you will be picked up from any here in sam sand dunes. Thar 4×4 Jeep will be used mostly in this tour
This Package will be starting from 400 INR per person
Night Safari in Jaisalmer
Night safari in Jaisalmer/ star gazing on dunes- This activity has started from last 2-3 years. This tour is mainly done by couples or travelers who want to spend time alone on  Dunes. This tour is started  after dinner. In this, the desert is seen in the light of the jeep and enjoy the wildlife. Sometimes desert animals are seen in this activity. In winter we will also do bonfire on the sand dunes in moon night