Jeep Safari Tours
Jaisalmer Jeep Safari, the most exciting activity after camel safari. Guests enjoy a jeep ride for 45-60 mins at the sand dunes of Sam.
We offer a few Jaisalmer Jeep Safari tours & you can choose the one which is perfect for you.
Our Jaisalmer Jeep Safari tours:
45-60 minute Jeep Safari
Jeep Safari with dance & dinner
Jeep Safari with camp stay
In all these 3 tours, a jeep safari is common, and in tour 2 & 3 we have added extra activities & facilities like:
Private taxi transfer
Dinner dance program at camp
Overnight camp stay.
Jeep Safari Tours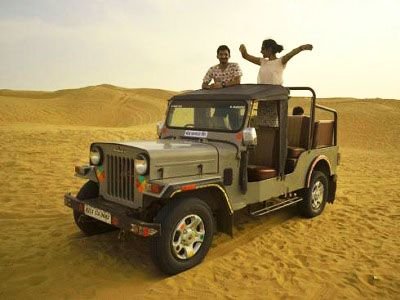 45-60 minute Jeep Safari tour
A basic jeep safari tour, where you need to arrive at Sam sand dunes & from there we will begin our Jeep Safari tour at the sand dunes.
The tour duration is for 45 to 60 minutes & starting/ finish point will be the same.
Jeep Safari with dance & dinner
This is a 7-8 hour tour which will start from pickup at your hotel in Jaisalmer city (around 3-4 pm) & drop back at 11 pm. Here the tour inclusions are:
Private taxi transfer (pickup & drop)
Jeep safari tour between 5 to 7 pm
Musical & dance program with buffet dinner from 7 to 10 pm
Jeep Safari with camp stay
Get the real experience of desert safari & camping at Jaisalmer with an overnight stay at a desert camp in Sam Jaisalmer. In this tour, the itinerary is:
Pickup from Jaisalmer at 3 pm on day 1
Check-in at desert camp by 4 pm
Explore the sam dunes & enjoy jeep safari tour
Enjoy dinner & dance program at the camp.
Night stay at camp
Morning breakfast at the camp & checkout by 10-11 pm
Optional sightseeing tour of a few sites in desert & are on-route to Jaisalmer city
Drop back at Jaisalmer city before lunch time.
CALL +91 63764 21821 TO BOOK A TOUR
[contact-form-7 id="7467″]
Also view our:
Jaisalmer camel safari
Along with Jeep safari, checkout our Jaisalmer camel safari tours.
Jaisalmer desert safari
View details of all our safari tours conducted at Jaisalmer. all presented at our Jaisalmer desert safari page.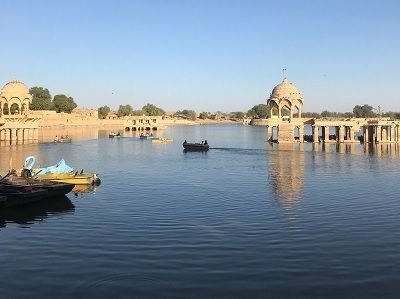 Jaisalmer tour package
We have the best tour packages, fully optimized and flexible as per your needs, and the best price guaranteed.
Jaisalmer car rental
Hire a taxi in Jaisalmer for as low  rates for outstation tours.
Top 10 camps in Jaisalmer
Checkout our list of Top 10 desert camps in Jaisalmer Sam & Khuri region, along with rated, contact details, pics etc.
Jaisalmer tourism
Get more details on Jaisalmer tourism by viewing our page in all must see sites in Jaisalmer & a few more info.